As a nutritionist, cookbook author, mom of three AND Skinnygirl® Cocktails Insider, Lauren Kelly has a lot on her plate—literally. Here are her answers to YOUR questions for entertaining #LikeALady this holiday season!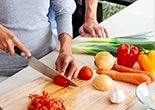 Ask AN INSIDER: LAUREN KELLY laurenkellynutrition.com
As a nutritionist, cookbook author, mom of three AND Skinnygirl® Cocktails Insider, Lauren Kelly has a lot on her plate-literally. Here are her answers to YOUR questions for entertaining #LikeALady this holiday season!
DO YOU suggest GOING ON A CARB-FREE DIET?
Do you think it's the best way to lose?
- Kelly W.
I don't believe in restricting any food groups. Too much of anything isn't good for you. The best way to lose weight is to burn more calories than you take in.
WHAT IS THE BEST WAY TO START YOUR FAMILY ON A healthy EATING PATH?
- Keshia W.
Make the correct choices! Choose lean, organic meats and lots of fresh fruits and vegetables. Enjoy treats, but only take a small piece of one so you don't feel deprived. Limit your intake of refined, processed foods and eat more "whole" foods (food that has been processed or refined as little as possible and is free from additives or other artificial substances).
DO YOU HAVE A FUN holiday GLUTEN-FREE MIXED DRINK RECOMMENDATION?
- Megan M.
Mulled Wine (Serves 8)
1 orange, sliced and seeded
½ part sugar
2 part water
1 teaspoon ground cloves
2 teaspoons cinnamon
1 bottle of Skinnygirl™ California Red Blend
Combine ingredients (except wine) in a pot. Bring to a boil, reduce the heat and then let simmer for 15 minutes. Reduce the heat and add the wine. Slowly reheat but do not boil. Serve warm.
ON A DAIRY-FREE DIET, DO YOU HAVE A HEALTHY AND LOW SUGAR
replacement for milk in my coffee?
- Kelsie O.
Almond milk is a wonderful gluten-free, dairy-free option for your coffee. You can even choose a vanilla flavored almond milk, just make sure it says "unsweetened" to avoid all the extra sugars. Coconut milk is also a great dairy-free option for those who like a creamier texture.
WHAT ARE THE best VEGAN OPTIONS FOR SOMEONE WITH A VERY
active lifestyle? What are the best multivitamins to complement this diet?
- Claudia S.
Legumes, beans, seeds and nuts are all wonderful sources of protein for vegans. Quinoa and Hemp are both seeds that are complete proteins, meaning they contain all nine essential amino acids. Vegans should also focus on eating healthy fats from avocados, nuts, flaxseeds and nuts. A vegan athlete may be lacking in certain vitamins and minerals such as Vitamin D, calcium and iron. Calcium and Vitamin D are both crucial for bone formation and growth, especially in athletes. These can be found in leafy greens, nuts, beans and in fortified foods such as orange juice, organic tofu and organic soy milk.
WHAT ARE THE BEST FOODS TO EAT THAT MAXIMIZE HEALTHY, GLOWING HAIR/NAILS/SKIN?
- O.N.B.D.
Eating foods high in vitamins and minerals will help you look and feel great from the inside out. Kiwis and oranges are great sources of Vitamin C, which helps protect and correct your skin from sun damage as well as keeping your hair shiny and your nails strong. Vitamins C and E are powerful antioxidants that help protect against skin damage and wrinkles (you will find many skincare products contain these antioxidants). Dark leafy greens are rich in both Vitamin C and E. Green tea (my favorite) also contains powerful antioxidants which are great for skin and nails. Omega-3-fatty-acids are fantastic for healthy hair, nails and skin. Fatty fish, nuts, seeds, fortified eggs and ground flaxseed all contain these omega-3-fatty-acids. Last but not least, water!! Water helps keep your skin glowing and hydrated as well as reduces the appearance of wrinkles.
ANY NO-CARB THANKSGIVING DISHES YOU CAN SHARE?
- Heather D.
Obviously, turkey is low-carb. I would eat turkey with vegetables side dishes such as green beans and almonds or roasted vegetables. A favorite of mine is mashed cauliflower which is a wonderful substitution for mashed potatoes. Cook it with milk, garlic and cheese as you would make regular mashed potatoes.
WHAT OILS DO YOU recommend COOKING WITH OVER OLIVE/VEGETABLE?
- Julia K.
Vegetable oils are filled with chemicals and unhealthy additives. Grapeseed oil is an excellent choice for high-heat cooking because it has a very high smoke point. Avocado oil is a wonderful choice because it also has a high smoke point and it's filled with healthy monounsaturated fats.
I love CHEESE! I'VE BEEN USING PARMESAN AND FAT-FREE SHARP CHEDDAR
because you can use a little to go a long way. Do you recommend any others to try that I can use sparingly?
- Amanda M.
Cheese is packed with protein and calcium, but some are healthier than others. Neufchatel Cream Cheese is a cream cheese with less calories and fat than regular cream cheese. Reduced-fat Feta cheese is a crumbly cheese that is lower in calories and fat and still tastes delicious. Reduced-fat cottage cheese is a healthy choice due to its high protein and calcium content. Reduced-fat ricotta cheese is also a healthy choice. All of these cheeses should be eaten in moderation.
Any tips to balance living a healthy lifestyle
and indulging over the holidays?
- Catherine R.
1 You must make yourself a priority. So many of us are taking care of everyone around us and forgetting about #1 (that's YOU). Remember, you take care of everyone else if you aren't healthy yourself. Putting yourself at the top of your to-do list isn't selfish, it's actually self-preservation!
2 It doesn't matter what your habits were yesterday or even last week, it all starts here. Today is the starting line. Don't keep pushing it off for another day.
3 Drink your water! I know, I know, we aren't as thirsty in the winter but your requirements are still the same. Many people often mistake thirst for hunger. Water is a powerful detoxifier and it helps balance digestion. It also helps make your skin look clearer and brighter.
4 Exercise! This is the busiest time of the year and what's the first thing we blow off? EXERCISE! It makes no sense-it only takes an hour or less and it makes our bodies and minds feel better. Why blow that off?
5 Keep a food diary. Anyone who wants to lose or maintain their weight, or simply be held accountable for what goes in their body, you MUST keep a food diary. It is crucial to maintain a healthy lifestyle. Now, before you complain, I know how busy you are and how easy it is to forget. Get an app on your phone or keep a notebook with you.
6 When cooking, load up on vegetables. Veggies can fill you up with healthy fiber. Make sure you always fill your plate up with them.
7 The same goes for protein. Make sure you have protein with every meal and snack. It will help keep you full longer. It's also important for us that exercise. Protein helps build muscle and maximize strength. Opt for lean proteins like fish, chicken, eggs, yogurts and nuts (just watch your portion sizes).
8 Sleep is crucial for maintaining and losing weight. Make an effort to get to bed a little earlier each night. Lack of sleep = overeating. No good.
9 Green tea is a powerful antioxidant that helps build your immune system, lowers your cholesterol and may even prevent certain diseases.That's not reason enough? Studies also show that drinking 3-5 cups of green tea daily may speed up your metabolism.
©2013 Skinnygirl Cocktails, Deerfield, IL; Avg. Analysis: All Products: Protein 0g, Fat 0g; Vodka with Natural Flavors (per 1.5 oz.): Calories 75.6, Carbs 0g; Cocktails (per 1.5 oz.): Calories 35.2, Carbs 2g; Sangria (per 5 oz.): Calories 132, Carbs 22.5g; Wine (per 5 oz.): Calories 100, Carbs 4.6g