Style & entertaining expert and writer Kelly Lee shares ideas & inspiration for living a life of style from her perch in Beverly Hills, California. She loves Audrey Hepburn, chocolate croissants, sunshine and Fred Baby.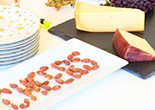 Ask AN INSIDER: KELLY LEE
kellygolightly.com
Style & entertaining expert and writer Kelly Lee shares ideas & inspiration for living a life of style from her perch in Beverly Hills, California. She loves Audrey Hepburn, chocolate croissants, sunshine and Fred Baby.
I'M HAVING A DINNER PARTY FOR MY FRIEND'S BIRTHDAY
and she loves Skinnygirl Cocktails so I want to make it a big theme of the night. I looked around on the website and saw some decor tips, but do you have any specific ones for turning your living room into an upscale serving area?
- Jeff R.
How fabulous! Here's how I turn my living room into the perfect party space: Use every surface possible as a bar or serving table. Multiple food and drink stations keep a party moving versus static. The entryway table becomes the ideal spot for small plates, The TV stand a perfect place for crudité. You get the idea.
Parties are the perfect time to really glam it up: break out the silver trays, pretty dishes and vintage glassware. I always like to write a message in lipstick on a mirror as quick and easy décor that gets guests in the mood to mingle. And when it comes to flowers, they're most impactful when you use a single color (you can't go wrong with white).
Since Skinnygirl® Cocktails bottles are stylish, you can use them as décor by lining them up along your bar or placing them in chic ice buckets. Or, if you're decanting them beforehand into pitchers, you can even use the empty bottles as vases-simply place a single flower in each and line them along the center of your dining table. Have a fabulous time and be sure to share photos with @Skinnygirl on Facebook and Twitter!
I WORK FOR A CATERING COMPANY AND I WANT TO STAY ahead
of the trends for all my guests. What trends are you seeing for fall/winter drinks and food, so I can be sure I can WOW my guests by treating them to the latest & greatest?
- Lisa D.
Vintage and craft cocktails are making a huge comeback, such as the French 75, The Mojito, The Mint Julep, Moscow Mule or Aviation. Craft cocktails are really about using the best ingredients possible-those that are in season-and combining/presenting them in unique ways. For instance, in lieu of jarred cherries, marinate Bing cherries in brandy or your favorite liquor. A beautiful copper mug is perfect for serving Moscow Mules, so combine Skinnygirl™ Bare Naked Vodka with ginger beer and fresh lime juice. A sprig of fresh mint and crushed ice makes it all the more special.
Get creative with your ice cubes too by making your own and placing fresh berries, fruit or herbs into trays and filling them with water before freezing. It's these special touches that make all the difference when entertaining. As far as food, the same holds true. What's local, fresh and in season is the trend, so visit your farmer's market and get inspired.
I love FANCY COCKTAILS WHEN I GO OUT TO EAT.
However they have so many ingredients involved. What are your favorite that are still easy to make at home and still impress your friends?
- Megan M.
What I love about Skinnygirl™ Cocktails is the ease-you can pour and serve without having to deal with adding any ingredients. However, my trick to making them seem like you invested hours and multiple mix-ins? Presentation.
Choose a fun glass to serve your cocktail in. I scour vintage thrift stores for fabulous glassware. Second, garnish. A slice of fresh apple in an apple martini, a lemon or lime twist or salted rim on the glass of a margarita, a sugared rim on a French 75, these are the "accessories" that make it seem like you spent lots of time crafting your cocktail.
NOW THAT SUMMER'S OVER I NEED TO RETHINK WHAT cocktails
to serve as I don't want too many warm-weather drinks at my fall get-togethers. Do you have any favorite recipes for fall?
- Elena P.
While I'm not one for overtly fall flavors like pumpkin (I live in Southern California, after all), I love a classic vodka martini year round. In the fall, I like to add a blue cheese-stuffed olive for a more savory component. A French 75, which traditionally combines gin or cognac with fresh lemon juice and simple syrup topped off with sparkling wine, is lovely year-round but feels especially appropriate for fall and winter. Make your own skinny version by replacing the gin or cognac with Skinnygirl™ Vodka and using Skinnygirl™ Prosecco to top it off. An Aviation cocktail is also nice when temperatures drop, and combines gin, maraschino liqueur and fresh lemon juice (although again, I normally swap the gin for vodka). It feels classic, special and just right for fall get-togethers. Manhattans are ideal for fall and mulled wine is great for groups. Sidecars with grated nutmeg or cinnamon feel apropos in cold climates.
HELP ME GET ideas TO TURN MY SMALL FAMILY ROOM/PLAYROOM INTO A
functional and super cute room (keeping in mind I have all boys!).
Thank you in advance! You are amazing!!
- Debbie P.
First, thank you! What's amazing is raising children, especially all boys. Mama deserves a cocktail-and a chic place to sit and relax! So I will refrain from telling you to invest in a white couch… for now. The best tip for keeping a multi-use area looking great is to have storage space to put everything anyway once it's not being used. Stylish wooden or mirrored trunks are ideal for a "grown-up" toy box of sorts. Leather ottomans that lift to reveal storage space are perfect for hiding magazines, books and remote controls in a snap when you want to have friends over for a cocktail. Storage and organization truly are essential. Make sure there's a place for everything-my TV stand is actually a six-drawer dresser, which has provided much needed storage in my small living room. Finally, embrace mirrors. They really do make a space feel larger and add a glamorous touch to any space.
Lastly, when a room is small, people often make the mistake of buying small furniture. While you don't want anything oversized or bulky, often times smaller furniture just makes a space feel even smaller. So stick to regular-sized furniture, but keep the lines clean for a space the feels visually calming and not choppy. Finally, if your space needs an area rug, always choose the larger size. A rug that's a little too small makes a space feel smaller; a large more generous rug-one that your couch sits on top of-will instantly make a room feel larger.
WHAT ARE SOME essentials TO KEEP ON HAND IF I WANT TO JAZZ UP MY BAR AT HOME?
- Christine T.
In addition to a well-rounded Skinnygirl® Cocktail, Wine, and Vodka collection, keep fun straws (striped or stainless steel always add a fun touch to cocktails), vintage glassware (I pick mine up at vintage and thrift stores), cute cocktail napkins and stirrers, and a shiny cocktail shaker on hand. A few jars of olives, cherries, nuts, toothpicks and a fabulous ice bucket and tongs and you're always ready for a party.
WHAT ARE SOME OF YOUR favorite COCKTAILS TO SERVE TO A GROUP?
- Miriah F.
If your party has more than a handful of people, punch bowls, large drink dispensers and pitchers full of your favorite cocktails are a must. This way guests can serve themselves and you don't have to play bartender all night.
My absolute favorite-and what my guests request every time I throw a party-is my Merry Cherry Peach Punch. It's so refreshing. It combines 2 parts Skinnygirl® White Peach Margarita, 1 part Skinnygirl™ White Cherry Vodka, 3 parts grapefruit soda and 1 part freshly squeezed lime juice, served over ice and garnished with a cherry.
WHENEVER I HOST PARTIES, I WANT TO LOOK cute BUT ALSO STAY COMFY
as I'm serving/cooking/pleasing my guests. What do you recommend wearing to your own parties?
- Vicky M.
I love a good party dress, but one that isn't restrictive. There's nothing worse than wearing a dress that's too tight in the waist when all you want to do is enjoy a good cocktail or bite to eat with your guests. A shift dress or baby doll dress is perfect. Also, heels add a festive element but they need not be sky-high. I love a good kitten heel for parties.
That said, I often start the party with heels and then kick them off mid-way through. It's a fun signal to guests to do the same and adds an even more relaxed charm to the party.
However, I realize dresses aren't for everyone. For a comfy-chic look, I love pairing a skinny jean/legging/pant with an oversized button-down top like a secretary blouse (I love a good bow). Add some sparkle with a cocktail ring, statement necklace, arm party, oversized brooch or flower pin, or shoe clips. Now's the time to break out the bling and baubles - a fun hair accessory or bow says I'm ready to party.
LIMES AND FRUIT ARE great GARNISHES FOR SUMMER, BUT WHAT
do you use to spice up your cocktails in the colder months?
- Katie G.
I love stuffed olives with blue cheese or almonds in a classic martini. A slice of apple or pear is lovely too and fall-appropriate, as are sprigs of fresh herbs such as rosemary, basil or mint.
And keep in mind that while we often think of citrus in the summer, a lot of citrus is at its peak during the winter: Meyer lemons, ruby red grapefruits, Satsuma's, clementines, tangelos, kumquats. They all make amazing garnishes for fall and winter cocktails.
I LIVE IN A BIG CITY BUT SMALL APARTMENT AND I REALLY like HOSTING
parties. Do you have any tips for serving food/drinks so that they don't take up too much space?
- Cindy H.
I truly believe parties are far more fun in smaller spaces. Need proof? Watch classic films! Smaller spaces mean people can't spread out as much, which makes for warm, intimate soirees-my favorite.
I love a good bar cart, both for aesthetics and practicality. You can find them in vintage stores, estate sales, and big box stores these days. But even if you don't have a bar cart, you can always craft a makeshift bar by using the surfaces you already have-just be sure to completely clear them off first.
And while a full bar can be nice, I like serving one signature cocktail-it can be a classic but it's fun to dub it with a new name that's cheeky and fit for the occasion. Be sure to keep a few bottles of wine on hand-like Skinnygirl™ California White or their new Cabernet Sauvignon. People normally opt for whatever the signature cocktail is and this saves you from taking up space with extra bottles that no one will help himself or herself to (and saves guest from deciding what to drink-a win-win!).
To save space when serving food, think vertical. Use cake plates and tiered trays to get the most out of your space. Having items of varying height also makes for a more dynamic and beautiful presentation. Cheers!
©2013 Skinnygirl Cocktails, Deerfield, IL; Avg. Analysis: All Products: Protein 0g, Fat 0g; Vodka with Natural Flavors (per 1.5 oz.): Calories 75.6, Carbs 0g; Cocktails (per 1.5 oz.):
Calories 35.2, Carbs 2g; Sangria (per 5 oz.): Calories 132, Carbs 22.5g; Wine (per 5 oz.): Calories 100, Carbs 4.7g
ALL PHOTOS CREDITED: KELLY GOLIGHTLY