From Fall's beginning when there's a chill in the air all the way to its end when you'll bundle (stylishly) for warmth, we have just the food, the tips, and of course the drinks, to make your evening perfect.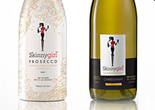 ALL THE Drinks & TIPS YOU'LL NEED, ALL FALL LONG
From Fall's beginning when there's just a slight chill in the air all the way to its end when you'll bundle (stylishly) for warmth, Skinnygirl® Cocktails has just the food, the tips, and of course the drinks, to make your evening perfect.
Fall FLAVORS
Introducing the new girls. Like every Skinnygirl® Cocktail, they're delicious and stylish all year long...but Fall is when their true tastes really come out. Oh, what a perfect time to meet them!
White Cherry Vodka Smooth, sassy and
subtly sweet. Prosecco A delicate blend of
sweet and crisp. Pinot Grigio A balance of sweetness
and elegance. Cabernet Sauvignon A harmonious blend of
fruit with a hint of
warm chocolate. Chardonnay Light, fruity flavor
with hints of
French oak vanilla.
Fall Cocktails
Planning a Fall get-together with the girls? Start by picking just the right wine or cocktail first-something tasty, easy, low-cal and festive-and go from there! Try one of these cocktails (featuring two of the new Skinnygirl® Cocktails flavors), visit our recipe section...or just pop open one of our wines.
INGREDIENTS:
- 1 part pomegranate juice
- 3 parts Skinnygirl™ Prosecco
DIRECTIONS:
Fill ¼ of a champagne flute with pomegranate juice. Top with Skinnygirl™ Prosecco.
INGREDIENTS:
- 1 part Skinnygirl™ White Cherry Vodka
- 4 parts sparkling water
- Splash of all natural pomegranate juice
DIRECTIONS:
Combine vodka and sparkling water over ice. Finish with a splash of pomegranate juice.
Fall FOODS
Whether it's a tailgate you're hosting or an evening soiree, always pick a dish to serve that will complement your favorite Skinnygirl® Cocktail, elevate the mood, and keep your guests entertained.
Roasted Blue Cheese Stuffed Olives and Grapes
Whether it's a warm evening or cool, whether you're attending someone else's party or hosting your own, this easy-to-make dish bursts with flavor and mixes sophistication with fun. The cheese melts to release the grapes' natural sugar!
Popcorn Bar
Festive. Fun. Healthy, too! Not to mention perfect for a holiday gift exchange. Create a popcorn bar with caramel corn, parmesan popcorn, and regular butter popcorn. Guests will love trying out the different flavors-for guests to enjoy while they mingle and open gifts.
Melon and Prosciutto Bites
The usual tailgate classics are fun...but just aren't classy enough for the kind of game day get-together you're throwing! This dish delivers an elegant and classic pairing of flavors and textures that can be easily made ahead of time and just served up at game time.
Tomato Soup
The later into Fall it gets, the more your friends and guests will love this scrumptious cold weather classic. It's timeless and easy to make, yet its unique mix of ingredients-not to mention the drink you choose to pair it with-gives it an unmistably modern taste!
Fall FESTIVE TIPS
You've paired mouth-watering eats with delicious (and stylish, and low-cal) drinks. You're just a finishing touch or two away from turning a low-key gathering into a memorable Fall party. Sound good? Consider these!
Champagne Glass Glitter Polish
To give any nighttime soiree a celebratory note (not to mention to round out the sparkle theme), decorate your champagne glasses! All you have to do is add glittery nail polish to the outside of the glasses to give each guest's Skinnygirl™ Prosecco (a sparkling treat itself) a festive, glittery touch.
Fall is a season full of warm, vibrant colors, and picking just one pattern can be tough. If you're daring, though, you don't have to-paisleys and plaids can play well together! Don't be afraid to layer mismatched patterns. Just pick pieces in the same color and put them together to create dramatic, harmonious, really unexpected results.
Wine Tumblers
For an avid wine sipper hosting a game day party, these are very, very handy accessories to have around-especially when guests, caught up in all the game action, put their drinks down anywhere. The double wall construction prevents condensation and keeps the wine at just the right temperature for longer. The lid also helps keep guests from spilling!
Trivia Prize
For those guests who don't care about who wins or loses, play this party game to get them in on the action! Have guests answer trivia about football's most obscure rules-and promise a bottle of Skinnygirl™ Pinot Grigio to the winner.
All trademarks are the property of their respective owners.