Skinnygirl Winter Beauty Essentials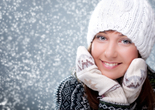 Don't let the cold weather get you (or your beauty routine) down. In fact, the blistery cold is all the more reason to give your skin, hair and nails an extra amount of TLC. Check out our favorite products of the season, sure to keep you glistening and glowing all winter long:
Moisturize: Cold weather zaps the moisture right out of your pretty visage like nothing else will. Replenish it with Kiehl's 1851 Ultra Facial Cream. This lightweight hydrator lasts for a whopping 24 hours and with Antarcticine (an ingredient found in microorganisms extracted from sea glaciers), the only "flakes" you'll be seeing this season are the ones that fall from the sky.
Glow So you forgot to moisturize… (We're guilty, too!) Fake it until you make it with NARS Illuminator in Copacabana, the winter's best secret weapon to achieve that "Where-did-she-get-that-glow?" glow. Dab some on the tip of your nose for a highlight, smudge a bit on your cheekbones for definition, or even adorn your collarbone for an unexpected touch of sexy sheen.
Shine The ever-elusive journey to achieve (and maintain) lustrous locks plagues us all. Even though the winter may not have your back, (or rather, your mane), Kerastase does. The Elixir Ultime is their crème de la crème of products and works for all hair types. This unique cocktail of emollient and anti-oxidant active ingredients makes for 100% guaranteed supple, soft and shiny tresses.
Sparkle Gray skies and sleet does not a happy Skinnygirl make. May we suggest brightening up your day-to-day with some of the most festive sparkling nail polish we've seen all season? OPI recently launched "The Muppets" line, a bold new collection of 12 amazing colors, half of which are chock full of the boldest, biggest, most sprightly glitter we've ever seen. (It's the little things, right?)