A Skinnygirl DIY Cocktail Party - Celebrate Loving YOU!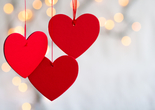 If you're Facebook reads status "single" this V-Day, there's no reason to fret. Being single is a necessary and vital time in your life to learn how to love the most important person you know: you! So what's a Skinnygirl to do on Valentine's Day? Throw a party of course. Our key pointers for a DIY V-Day Cocktail party will have you saying "[Insert ex-boyfriend's name here] Who?" in no time. After all, this shindig is in honor of you.
1) It may be cold outside, but nothing warms the heart like…a cocktail. So, grab a shaker, your BFFs and concoct a round of yummy drinks that prove you don't need a man to heat things up. Pink drinks are preferred, so may we suggest adding a fun pink or red garnish (strawberries or, of course, cranberries) to play up a rosy hue? Don't let a boyfriend-less night bottom you out. Raise that martini glass, toast to your independence and cheers with a "Bottoms Up!" instead.
2) No Skinnygirl wants to slave in the kitchen on this day of self-love and celebration. Tonight is all about feeling sexy, sweet and maybe a little sassy, too. So in an honor of that sugar-and-spice vibe you're rocking, don't sweat an array of savory appetizers: create a fun and feminine dessert station instead. Think decorative cookies, cupcakes, pink and red jellybeans and chocolate kisses. Take a cue from Bethenny with her healthy recipe for Espresso Cookies. Because celebrating singlehood tonight is approved: over-indulging on calories is not.
3) Create the perfect party soundtrack for you and your GFs to dance your dolled-up tootsies too. It may at first seem cliché, but turn on the iPod, turn up the volume and we guarantee you'll feel genuinely happy to be single this year with music like "Since You've Been Gone" by Kelly Clarkson, "Single Ladies" by Beyonce and "Forget You" by Cee-lo Green in the background. Throw in "Cupid Shuffle" by Cupid to your playlist. Because your cupid's arrow will come…and this night would not be complete without a serious dance-off.
4) 
It's just you and the girls, so "Spin the Bottle" will have to wait. You have the rest of the year to kiss your Prince Charming(s), and undoubtedly a couple of frogs. But "Telephone", "I Never" and, after a few cocktails, "Truth or Dare" are all fair game. Your Valentine's Day may just get a whole lot more memorable than you ever imagined.
We know that Valentine's Day can be many different things for many different women. Whether or not you've been struck by that cupid's arrow or are still searching, we at Skinnygirl believe there are many reasons to celebrate this day of love. Know that we are celebrating you, our fans, who give us so much love every single day of the year. Happy Valentine's Day Skinnygirls: this year, we will be toasting to you.