A Ladies Guide to Game Day -...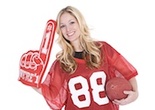 Skinnygirl® Cocktails knows sports AREN'T just a guy thing anymore, so we're here to rewrite the rules on how to be a lady and a sports fan. In the spirit of football season, we're helping you throw the perfect pigskin party. Whether you make it a girlfriends-only game day or decide to include the guys, too, Skinnygirl® Cocktails has a few fundamentals to throwing an athletic affair that will have everybody cheering!
To kickoff your party right, you'll need a crowd-pleasing presentation. No need to get gaudy with streamers, signs, or foam fingers, keep your room classically simple with hints of your favorite teams' colors dispersed in some key places – napkins, coasters, throw-pillows, welcome mat, etc. Instead of a tablecloth, use a plaid throw or quilt that features your team's colors.
Craft a chalkboard menu to get your fellow fans excited about the tasty treats you have on the roster. If you really want to impress the crowd combine football with fall-fun by carving a football helmet out of a pumpkin and using it as a centerpiece!
Once you've strategized your set-up, it's time to satisfy your thirsty fans. Swap out the plastic cooler for a chic galvanized metal bucket to chill and serve drinks. That means you'll need to stock up on everyone's favorite self-serve beverage – Skinnygirl® Cocktails!
Chill a few bottles of ready-to-serve Skinnygirl® Sangria and Skinnygirl® White Cranberry Cosmo for guests to sip throughout the game, and whip up a few festive football-themed cocktails beforehand so you won't have to take a time-out from the game.
Skinnygirl Red Zone
2 parts Skinnygirl™ Bare Naked Vodka
1 part club soda
1 part cranberry juice
Squeeze of lime
Pour over ice
Skinnygirl Coin Toss Cooler
2 parts Skinnygirl™ Tangerine Vodka
½ apple, chopped (Recommend Honey Crisp)
¼ orange, squeezed
Splash of apple juice or cider
Pour over ice, top with club soda
Skinnygirl Tackle Tonic
1 ½ parts Skinnygirl™ Bare Naked Vodka
2-3 parts diet tonic water
Pour over ice, garnish with a lime wedge
And what would a football game be without food? Not offering enough to eat could result in a penalty, so serve up a few of our healthy game day staples to tackle your guests' appetites!
First Down Dip Ingredients:
Fat-free refried beans
Salsa
Baked or multi-grain tortilla chips
Directions: Mix fat-free refried beans with salsa and serve with baked or multi-grain tortilla chips
Perfect Spiral Salsa Ingredients
1 medium avocado diced
3/4 cup frozen corn thawed
1/2 cup quartered grape tomatoes
1 tablespoon chopped fresh cilantro
2 teaspoons lime juice
1/4 teaspoon kosher salt
Directions: Toss avocado, corn, tomatoes, cilantro, lime juice and salt in a medium bowl.
So, ladies, there's the play-by-play for throwing the perfect game day party. It's simple, it's fun, and when Skinnygirl® Cocktails are in the game – everybody wins! And remember, a Lady Always Drinks Responsibly™!
©2012 Skinnygirl Cocktails, Deerfield, IL; Avg. Analysis: All Products: Protein 0g, Fat 0g; Vodka with Natural Flavors (per 1.5 oz.): Calories 75.8, Carbs 0g; Cocktails (per 1.5 oz.):Calories 35.5, Carbs 1.8g; Sangria (per 5 oz.): Calories 132, Carbs 22.5g; Wine (per 5 oz.): Calories 100, Carbs 5g