8 Great Ways to Accessorize a Holiday Outfit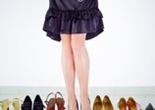 With all of the bright jewel tone and elegant metallic dresses appearing this holiday season, the only thing left to worry about for that impending party is the selection of the perfect accessories. Keeping your flawless outfit in mind, consider these dazzling baubles, bags and shoes to complete the ideal holiday look.
Baubles
This crystal, glass, and metal necklace from J.Crew screams sophisticated holiday fashion. The pop of bright color with petite, elegant beads makes this a more understated but no less fashionable accessory. Paired with a chic black dress, this simple strand will be perfectly showcased.
If classic isn't appealing, J.Crew offers several more distinctive styles including this bright crystal necklace available in clear, blue, and rouge as well as the matching bracelet to round out the look.
J.Crew isn't the only store offering breathtaking accessories. Talbots' online store features a variety of gorgeous necklaces, one favorite being this 32" long jet cabochon as well as the same materials manifested in a bib necklace that makes a slightly more bold statement.
Bags
Jewelry may be important in completing an outfit, but no woman can pass up an amazing handbag. All that glitters may not be gold, but this petite handbag is a ten for sure. Available in a variety of metallic shades including champagne gold, hematite, and silver, this tiny bag packs a lot of punch, brightening even the most basic holiday outfit. Golds can be great, but it's nice to have other options. Express also offers an envelope wristlet that comes in several metallic shades, but it is also available in blue and a more neutral off-white.
Shoes
A classic pump in a jazzed up style is the holiday outfit's best friend. Macy's presents a host of pumps to suit any style, and one of the best options is this Alfani pump available in red, garnet, and blue. A colorful shoe is one of the best ways to dress up a simple outfit, and a pump is not always the answer. One more comfortable option is an elegant flat like this Marc Fisher shoe offered in a classic black/white combination as well as yellow/black and blue/black.
When deciding on that perfect holiday outfit for a work party, family get together, or night out on the town, accessories can go a long way in making that outfit exactly right. Adding attractive and distinctive jewelry, lust-inducing bags, and the ideal shoe will make almost any outfit holiday ready.
Content by Bex Barker.