Decorating for the holidays is a time-honored tradition in many families. Why not take that...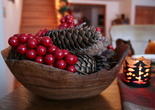 Decorating for the holidays is a time-honored tradition in many families. Why not take that tradition up a notch this year and make your own holiday decor by upcycling items you already have around your house? It's great for the environment, easy on the wallet, and provides an extra layer of satisfaction knowing that you have created the decor yourself. You might be surprised at how easy it is to turn your old wool sweaters in to a stocking, or the pine cones laying out in your yard into a gorgeous centerpiece. Here are a few ideas to get your holiday decor juices flowing.
Pine Cone Centerpiece - This beautiful and elegant pine cone centerpiece can also be used as a decorative wall hanging, and is good for Thanksgiving as well. What a wonderful way to re-purpose that old mirror that's been gathering dust in the closet and use those pesky pine cones that you've been tripping over while walking the dog!
Wool Sweater Felted Stockings - Use those old wool sweaters and socks to make these patchwork stockings for your mantle. This tutorial tells you everything you need to know, from how to felt the wool to how to make your pattern. Don't feel like you have to stick with traditional holiday colors, though - you can always add as much Christmas bling as you like to help catch Santa's eye.
Sock and Mitten Advent Calendar - If you have little ones in the house you can make this Advent Calendar out of old or mismatched socks and mittens. This is a great way to decorate for and celebrate the season, both at the same time.
Wine Cork Holiday Wreath - This beautiful yet simple holiday wreath is made from used wine corks. Embellished by a single bow, pine cone cluster or snowflake cut-outs, it can be used from Thanksgiving through New Year's. Simply change the embellishment with each new holiday. This creative eye-catcher is sure to be a great conversation starter for all your holiday get-togethers.
Greeting Card Placemats - This idea is perfect for Chanukah, Kwanza or Christmas, and is made from old holiday greeting cards. If you don't have any on hand, don't fret - you can still make these cute holiday placemats from scraps of wrapping paper or even holiday magazine pages. If you don't have the clear contact paper and don't want to buy any, you can use strips of clear packaging tape instead.