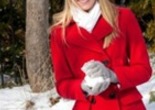 Your winter coat can be the ultimate accessory for the season, so make sure you invest in one that truly represents your unique taste and sense of style. Whether you're heading off to work or making your way to a fancy dinner, you don't have to settle for a shapeless shell to keep you warm! Seek out a stylish but functional winter coat that complements your personality and outfit. Here are five fabulous winter coats to add to your outerwear lineup this season:
#1: Military Style Coat
Military-inspired styles are still one of the hottest trends of the season, so trade your classic pea coat for something with military flare. Look for a fitted and flared style to wear as a dress coat or anytime the occasion calls for something a little less casual. This military style coat by Betsey Johnson is perfect for all figures and is just the right length for pairing with that little black dress or other formal attire this season.
#2: Classic Trench Coat
A European-style trench coat is a classic piece you can wear year after year. Go for a full-length trench with oversize buttons and a detachable hood for a stylish, streamlined look. This London Fog Club Collar Trench Coat is available in both black and tan, and will work well for the workweek and anytime you need more coverage on those colder days. Pair this with some faux fur-trimmed boots and you'll be good to go.
#3: Bold Red Pea Coat
The pea coat never goes out of style but you can take the style factor up a notch by picking out one in a bold hue. Go for a festive red, shorter pea coat this season and accessorize with a black scarf, gloves and a hat. This Tommy Hilfiger Coat is available in both black and red, and is slightly shorter than your average pea coat. It's a good match for weekend wear but can also work well for the office when wearing a shorter blazer or sweater.
#4: Military Green Faux Fur-Trimmed Coat Love the look of fur? Go with a faux fur-trimmed belted trench coat. The classic cut of this Steve Madden Double Breasted Coat with Faux Fur Trim suits most figures and is a versatile piece for semi-casual events. Wear this one with your favorite pair of jeans and leggings, and just to stay warm and cozy as you trek across town running errands.
#5: Double Breasted Long Pea Coat
Elongate your figure and play up your waistline with a double-breasted long pea coat. This form-fitting style will keep you plenty warm and stylish throughout the season. Try something like this Style&co Double Breasted Long Pea Coat. This style is great for date night, weekend shopping trips and any event where you want to show off your chic and sophisticated side.
Content by Sabah Karimi.