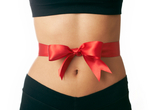 Are you shopping for an active, health conscious friend or family member this holiday season? You're not alone. Even in a struggling economy, the market for products encouraging a healthy lifestyle continues to grow. So which healthy products will make the perfect holiday gifts this year?
P90X
The P90X Workout System isn't new, but it continues to be popular among men and women alike. The workout DVDs are only part of the program. Combined with information about nutrition and access to an online support, P90X is the perfect gift for someone in your life who is ready to ring in the New Year with a new, healthy lifestyle.
OXO Vegetable Steamer & "Cooking Light" Subscription
A healthy diet is a must for a healthy lifestyle. Steamed veggies, instead of those coated in butter or baked in casseroles, are a simple change that anyone can make. Purchase a vegetable steamer like the one by OXO, and pair it with a pot that can be used for other cooking. Pair it with a 1-year subscription to "Cooking Light" magazine.
"The Road to Wealth"
Your financial fitness matters, too. In fact, it can impact your overall health. Suze Orman's classic "The Road to Wealth" is a an easy-to-read and understand guide to managing your finances that can help you start (or get) on the right foot financially.
Harry & David's Fruit-of-the-Month Club
Select the club that fits your budget through Harry & David. The recipient will appreciate the home delivery of fresh and delicious fruit every month.
Skinnygirl Daily Cleanse & Restore
The Skinnygirl Daily Cleanse & Restore program is conveniently packaged in individual servings for women on-the-go who want to cleanse their systems on a daily basis. It'll help give your system the boost it needs to stay on top of the grind.
Lifestyle-Specific Cookbook
Are you buying for newlyweds? Consider "Healthy Cooking for Two (or Just You): Low Fat Recipes with Half the Fuss and Double the Taste." For a big family, choose "Pillsbury Fast & Healthy Cookbook: Delicious family meals in 30 minutes or less." Finally, opt for the "Healthy College Cookbook" for those college students before they head back to school.
Gym Membership
A gym membership may cost anywhere from $100-1200 for a year, depending on where you live. If you can afford it, this gift can give a friend or family member the push they need to live a healthy lifestyle. They'll think of you every time they use it!
Aveda Skincare Starter Sets
Healthy skin can help you radiate confidence. Choose from one of Aveda's starter sets for dry, oily, or sensitive skin in order to meet the skincare needs of the recipient.
Massage Gift Certificate
Massage can help you rejuvenate, refresh, and relax. Find a high-quality masseuse in your area and purchase a gift certificate or make an appointment for a holiday massage for a friend or family member this season.
"Wellness on a Shoestring: Seven Habits for a Healthy Life"
This little book can make a big difference for someone looking to improve their life both inside and outside, and it won't put a big dent in your wallet. Keep several on hand to give as gifts to friends throughout the holiday season. This holiday season, give gifts that promote a happy, healthy lifestyle all year round.